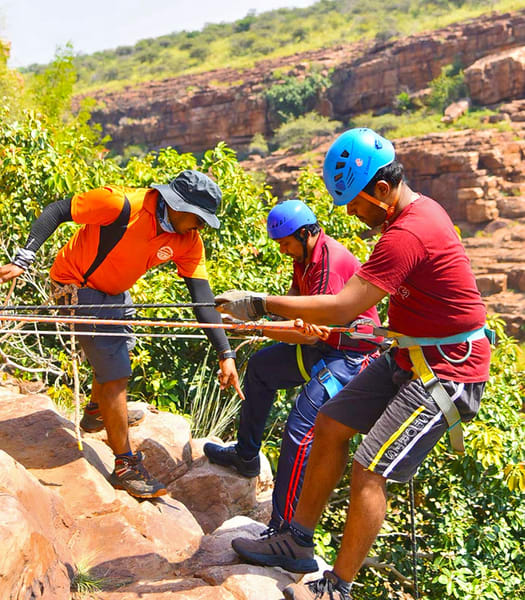 ⛰️ HillSide Adventure Camp – Gandikota
183
183 people viewed this event.
1500
About Gandikota Camping
Gandikota camping, well-known for representing the Grand Canyon of India, caters a variety of options for nature lovers and get lost amidst the scenic beauty of hills and rivers. The Gandikota Camping site is situated in the eastern ghats in the state of Andhra Pradesh and at a short distance from the city of Chennai, where the valley is cut by the River Pennar flowing through the Erramala hills.
Make your vacation in Gandikota memorable and witness amazing nature creations in the area, with hilly landscapes and Belum caves dotted around to explore. Learn about the rich history and architectural beauty when you ascend to Gandikota Fort. Make your vacation a perfect getaway from city lights amongst the dense forest and scenic nature by going for a trek.
Also, mingle yourself in various other activities such as Rappelling, Rock Climbing, Kayaking, Archery, Rifle Shooting and many more with full on-ground assistance. Take a nature walk on the banks of the river and don't miss the sunrise and get mesmerized by its beauty.
Other Information
Occupancy: 15 Tents – twin/triple/quad sharing (Max 50 pax)
Children below 6 years can join without any charges, and those between 6 to 12 years can book the child package(half charge).
Trek Level: Moderate
How to Reach
The location is approximately 360 km away from Hyderabad, and 15.6 Km from Jammalamadugu via MDR341, you can easily reach by public and private transportation. The exact location of the campsite shall be disclosed on successful booking.
About the activity
The Gandikota Camping begins at 11 AM on the first day and ends at 12 PM on the 2nd day.
Witness the mesmerizing sunrise from the top of the hills or sit beside the banks of Penna River.
Explore the famous destination, prominently recognized for its panoramic gorge carved by River Pennar that cuts through the Erramala hills.
Soothe your senses with picturesque landscapes of lush green hills and river of such a location known as the Grand Canyon of India.
Embrace the beauty of Penna River through indulging in adventurous activities like Swimming, Cliff Jumping, Waterfall trekking, Fort Visiting, Rock climbing and lots more that make the location an ideal spot for adventure seekers.
Take part in fun-filled indoor board games or go for a relaxing nature walk to explore the surroundings.
Sit around a warm bonfire session in the evening and enjoy a fun chit-chat session with your dear ones.
Enjoy comfortable accommodation in tents on a twin/triple/quad sharing basis along with a common washroom facility.
Grab scrumptious meals in the form of breakfast, lunch and dinner that would help you regain your strength in between.
Things to carry at camping
Caps
Back pack (50-60l)
Water bottle
Hiking shoes
Itinerary
DAY -1 : Arrival at Campsite
11:00 AM – Reach at the campsite, followed by briefing and tent allocation.
12:00 PM – Get ready to visit the Gandikota Fort after freshening up yourself.
02:00 PM – Lunch/Buffet will be served to you and you can satisfy your taste buds
04:00 PM – You can enjoy the evening by playing some fun games or by witnessing the sunsets right from the campsite.
05:00 PM – Relish a Hi tea session with snacks along with your loved ones!
07:00 PM – Enjoy the amazing Campfire session with music.
08:00 PM – Delicious Dinner will be served to you.
09:00 PM – You can go in your respective tents and retire for the night
DAY -2 : Arrival at Campsite
06:00 AM – Start your day with the morning tea and embark on an adventurous morning trek.
07:00 AM – Have your Breakfast and get ready for the next activity.
08:00 AM – Later, proceed towards visiting the mesmerizing waterfalls
12:00 PM – You can have your Lunch and check out from the campsite with a lot of memories.